Description
BVF-260
It is non-contact imaging device of subcutaneous vein and belongs to the internal power supply equipment. It uses the safety cold light, positioning the subcutaneous veins on the surface of patient's skin. BVF-260 is easy to detect veins at the back of the hands through transmission of LED red light and it can assist medical staff to observe sub-cutaneous veins of hands and significantly improve the success rate of the injection It is suitable for hospitals, Clinics, homes as well as any other places to find the veins for injection.
Vein Finder Function
The majority of people have highly visible veins, which enable health care providers to perform fast and accurate venous punctures. However, veins are not always visible in children because of fatty tissue. They are also difficult to locate in the elderly, in people having dark complexions or obese patients. In these instances, vein finders are beneficial to patients and medical caregivers alike.
Blood contains oxygen and nutrient-carrying hemoglobin molecules, which readily absorb infrared light. When an active infrared vein finder is applied to the skin, the vessels become visible to the naked eye, as the absorbed light in the hemoglobin make the veins appear darker, which is in high contrast compared to surrounding tissue.
Vein finding devices vary in capability. Some emit lightwaves that penetrate a few millimeters into the skin. The devices make superficial blood vessels easy to locate. Other devices emit lightwaves at higher intensities, which provide detection of deeper veins.
Passive vein finders are another option. Instead of using infrared light absorption, the eyewear devices alter the light that caregivers see by using specially filtered lenses.
What to Look for in a Vein Finder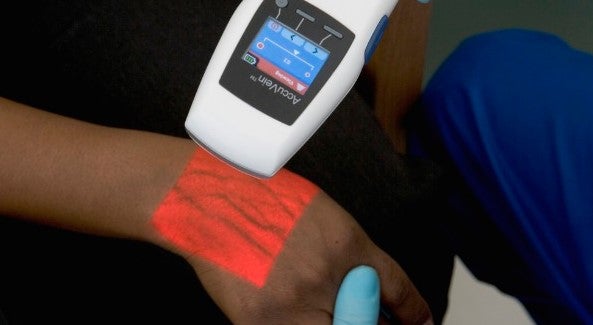 There are a few important things that you should look for/keep in mind when searching for a vein finder.
Is it Intended for Adults or Children?
While most models can be used on both, some are usually only intended to be used on one. A vein finder that is made for children has a much lower LED light effect which is not good for adults who need more light in order to see their veins. It's important to make sure to check before buying one to make sure you get the correct model.
Does it Have a Rechargeable Battery?
If you intend to buy an active vein finder you want to make sure it has a rechargeable battery. This can help to make sure that you don't have to constantly keep investing in new batteries all the time in order for it to work.
It's also a good idea to check to see how many battery packs a vein finder comes with. If it comes with one it would be good to have another one on hand that you can charge and quickly swap with the current battery pack when that certain pack needs to be recharged.
Does it Highlight Facial Veins?
Finding facial veins can be a very difficult and delicate thing for vein finders to do. Because of this, some models don't work well with highlighting facial veins. If you intend to use a vein finder on the face, it's a good idea to check to make sure if it has the ability to do so.
Can it be Cleaned?
Cleaning a vein finder is very important, especially if you intended to use the same product on multiple people. You want to make sure that the vein finder can be easily sanitized and won't end up somehow damaging the product if you do so.
A Light Shield
While some vein finder models are made with a light that isn't too irritating, some do come with very strong lights. These lights can end up irritating your eyes which will hurt them because they are so bright and strong. A light shield can help to protect your eyes when using one and can also help you to better see any veins that might show up with the device.